Medicaid Program and Dental Implants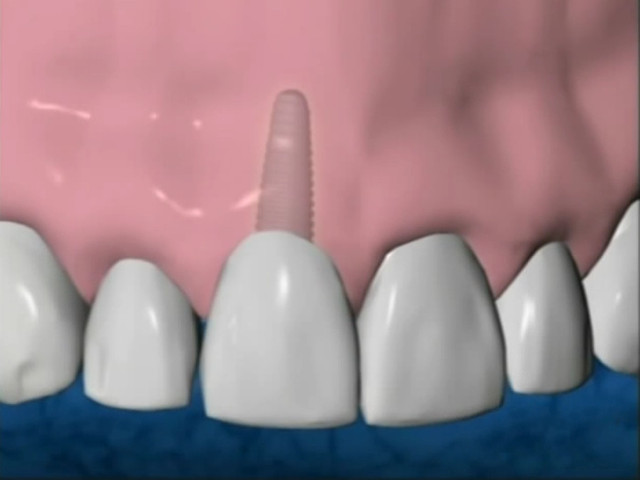 In spite of the developments in dentistry, millions of American citizens still suffer from tooth loss. In most cases, these losses are caused by periodontal diseases, tooth decay or injury. For the longest time, the only types of treatments available to individuals with missing teeth involved dentures and bridges. However, currently, patients can consider the use of fixtures as a treatment option.
What is a Dental Implant?
An implant is a surgically placed tooth root. Implants offer a good foundation for permanent or detachable teeth that can be made to look like the patient's natural teeth.
Below are some of the advantages associated with oral fixtures.
1. Improved appearance
Oral fixtures feel and look like your natural teeth. Additionally, since they are built to naturally fuse with the jawbone, they become fixed.
2. Improved speech
Oftentimes, poorly fitted dentures slip in the mouth making you to slur or mumble your words. Since fixtures are permanent, they enable you to speak without the teeth slipping regularly.
3. Easier eating
Sliding dentures always make chewing hard. Implants, on the other hand, function like natural teeth. They allow you to chew your food without pain and with confidence.
4. Improved Oral health
Oral fixtures do not need other teeth to be reduced as is the case in tooth supported bridges. Since other teeth are not required to offer support to the implant, your teeth are not altered thus enhancing overall oral health.
5. Convenience
Implants eradicate the inconvenience associated with removing dentures. Additionally, they do not require messy adhesives to ensure they remain in place.
6. Durability
Oral fixtures are long-lasting. If taken good care of, they can last a lifetime.
How Can I get Implants?
The Medicaid program offers free medical assistance to individuals with limited resources and low income. Even though the federal government has set fundamental guidelines for Medicaid that must be followed, the states have considerable freedom to define eligibility guidelines and declare what medical benefits are offered. States can decide if they will offer dental coverage to the program's beneficiaries over 21 years old.
Who is Eligible for Program Eligibility
The program aims at covering medical costs for individuals with limited resources and low income. The program, which is financed by both the state and federal governments, is administered by the states. Guidelines set by the federal government are used to form the baseline for every state to set the eligibility requirements. For instance, in California, individuals who receive particular government benefits, such as Refugee Assistance and Security Income, is eligible for the program.
Oral Health Cover for Patients Under 21
Individuals under 21 years old who are eligible for the program will receive the EPSDT benefit. The main drive encouraging EPSDT is the early diagnosis, prevention, and treatment of oral ailments. In the event implants are required to replace teeth, the program covers necessary costs related to the service.
Oral Health Cover for Patients Over 21
Guidelines stipulated by the federal government allow states to decide if they will offer oral health services to people over 21 years old. According to CMS, most states offer emergency oral services to adults. However, most of the states do not offer non-emergency oral health services to people over 21 years old. Since there are no requirements for adult cover, each state is mandated to determine whether it will offer cover for oral fixtures.
State Programs for Adults
Data related to the benefits offered to adults by a state can be derived from the state's Medicaid headquarters. Additionally, the American Dental Association has developed a website that allows visitors to search through a database regarding the dental benefits offered in each state.
SCHIP Dental Cover
The Centers for Medicaid Services also administer the SCHIP program. SCHIP offers free medical care services to children who do not enjoy Medicaid benefits. Each state has medical care providers who offer medical assistance to SCHIP-eligible children.
How successful are Oral Fixtures?
Success rates of oral fixtures often vary. The possibility of success depends on the positioning of the fixtures. Generally speaking, however, oral fixtures are successful 98 percent of the time. As mentioned earlier, if properly taken care of, fixtures should last a lifetime.
Who Can Get Oral Fixtures?
Often, healthy individuals who are can endure oral surgery or teeth extraction can qualify for oral fixtures. Patients are required to have enough bone and healthy gums to sustain the fixtures. Additionally, they must commit themselves to consistent visits to the dentists and correct oral hygiene. Individuals suffering from chronic ailments, such as heart disease and diabetes, heavy smokers, and people who have undergone radiation therapy must be evaluated individually. Make sure that you consult your dentist if you are considering using oral fixtures.
What is involved in Getting an Oral Fixture?
The first phase of the procedure involves the creation of a customized treatment plan. This phase of the procedure aims at addressing the patient's specific needs. Moreover, it is developed by a team of experts who are experienced in restorative dentistry and oral surgery. Depending on the types of treatments that are good in your case, the experts develop coordinated care procedures.